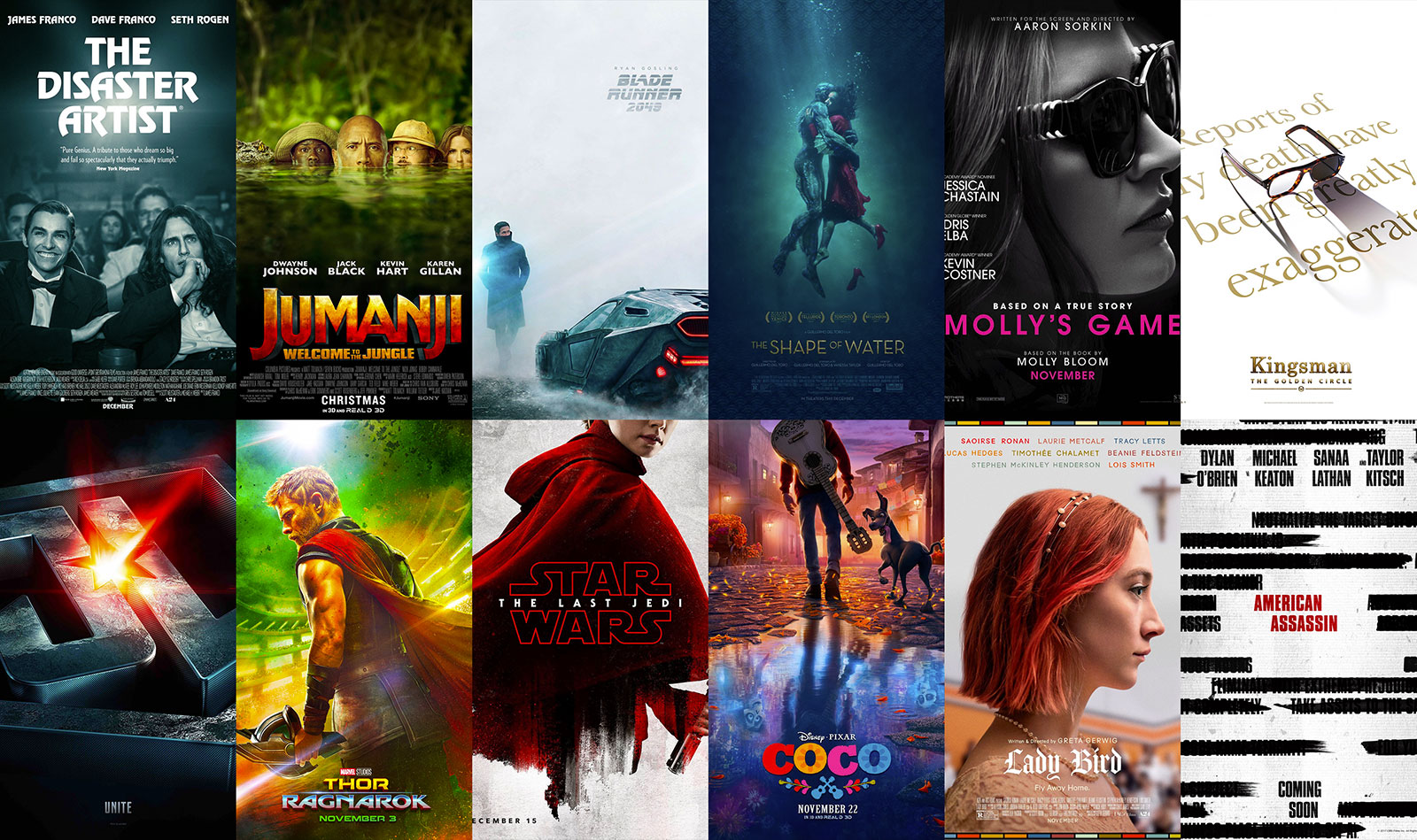 There were a high number of great films this past fall! Out of the 14 films I watched, only two of them weren't that good and another 3-4 that were just okay. Here is my ranking from best to worst:
1. Blade Runner 2049
I was very much looking forward to this film since it was announced that Denis Villeneuve would be directing it. It's a stunningly beautiful movie, and has a rich story that builds off of the original.
2. The Shape of Water
I may just have to go ahead and say this is Guillermo del Toro's best film. It has his signature look and feel, and tells a powerful story about love.
3. Star Wars: The Last Jedi
Such a great Star Wars film! This really cements us in the new trilogy. It shows how Star Wars can be a deep and compelling narrative and still maintain it's fun, fantasy, space adventure feel. Read the full review.
4. Coco
If you think Pixar has been a rut, let this film prove otherwise. This is easily their best film since Inside Out. It's a wonderful story about a boy learning to appreciate his family and heritage, while also helping his family see past a long held bias.
5. Jumanji: Welcome to the Jungle
This movie is hilarious and is pure fun! While it's related to the original, it has a very different feel. It's much more a comedy/action-adventure than a drama/action-adventure like the first one is. The cast does a fantastic job keeping the movie funny and entertaining throughout the entire film.
6. Molly's Game
If you like Aaron Sorkin's work, then you will love this film. He takes us through an unbelievable true story, and from what I've seen/heard in interviews, he has stayed very close to the truth.
7. Thor: Ragnarok
The Thor train of fun and goofy aesthetic has reached it's peak with this film, and I say that in the best way possible.
8. Lady Bird
A great coming of age story that is filled with touching character moments that I really enjoyed. Read the full review.
9. The Disaster Artist
This movie is mostly just reenacted parts of the book it's adapted from. However, I very much enjoyed each of the Francos' performances. Read the full review.
10. Kingsman: The Golden Circle
This was as straight of a sequel as you could get. While I found many parts of it funny, it's really the same movie as the first one just with a different conflict. I did find the parody of the war on drugs an entertaining and timely commentary though.
11. Justice League
This had a better story and was funnier than Batman v Superman: Dawn of Justice. But it's cinematography was not nearly as interesting. The Flash was my favorite character.
12. American Assassin
Another CIA film. If you like that genre then it's enjoyable. It has a straightforward plot with nothing too interesting happening.
13. Murder on the Orient Express
I was not into this film. It's a murder mystery where the reveal didn't feel earned.
14. Bright
There were two parts to this film. The fantasy cop movie, which wasn't half bad. And the social commentary on racism which was real bad.
---
Some films I missed that I wish were on this list:
Three Billboards Outside Ebbing, Missouri
Downsizing
Mother!
Battle of the Sexes
The Greatest Showman
Mudbound
Darkest Hour
Only the Brave